Scale Computing Storage Products

Affordable Data Storage Made Simple.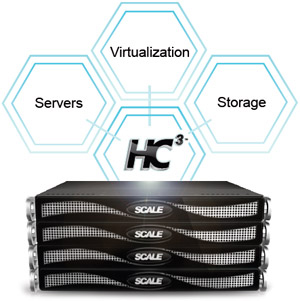 Scale Computing develops converged virtualization and storage systems for small and medium-sized enterprises. These systems enable IT professionals to virtualize environments on a converged scale-out architecture that delivers shared storage benefits without a SAN and with performance that stays one step ahead of demands.
HC3 Hyperconvergence System
The Scale Computing HC3 system is designed to deliver the benefits of virtualization without the need for a NAS or SAN storage layer. An HC3 system contains server virtualization software on every node with access to a single pool of storage that spans multiple HC3 nodes, but always looks like local storage to the hypervisor on each HC3 node.
HC3 systems are comprised of HC3 nodes that provide both compute and storage resources. However, it is possible to create a cluster that includes nodes that provide storage only resources without the ability to run VMs directly.
HC3 Hyperconvergence System
2TB - 8TB RAW,
1TB - 4TB Usable,
32GB RAM,
Redundant Power Supplies,
Two 1GbE Network Access,
SATA Drives
2.4TB RAW,
1.2TB Usable,
32GB RAM, 15k SAS,
Redundant Power Supplies,
Two 1GbE Network Access,
15K RPM SAS Drives
2TB - 8TB RAW,
1TB - 4TB Usable,
32GB RAM, SATA,
Redundant Power Supplies,
One 10GbE Network Access,
SATA Drives

Storage Systems
Scale Computing's storage systems are designed to add storage capacity to an existing HC3 cluster, or to serve as robustly featured, scale-out shared storage for external systems using iSCSI, CIFS, and NFS protocols.
S-Series
Scale Computing's S-series line of storage products is the storage workhorse for the mid-market. It's perfect for the vast majority of SMB uses cases such as archiving, virtualization, virtual desktops, disk-based backup, and even some database loads. With 210 MB of throughput on a three-node cluster, the S-series gives you the speed and performance you need.
M-Series
The M-Series storage nodes offer a range of high-performance hardware choices to meet the increased storage demands of mid-sized enterprises with high-activity applications and virtual environments.
Storage Systems
12TB RAW,
6TB Usable,
2GB RAM,
Single Power,
Two 1GbE Network Access,
SATA Drives

2TB - 8TB RAW,
1TB - 4TB Usable,
4GB RAM,
Dual Power,
Four 1GbE Network Access,
SATA Drives

2TB - 8TB RAW,
1TB - 4TB Usable,
12GB RAM,
Dual Power,
Four 1GbE Network Access,
SATA Drives

2.4TB RAW,
1.2TB Usable,
12GB RAM,
Dual Power,
Four 1GbE Network Access
15K RPM SAS Drives

2TB - 8TB RAW,
1TB - 4TB Usable,
12GB RAM,
Dual Power,
Two 10GbE Network Access,
SATA Drives