Scale Computing HyperCore Software

Monitors All Virtual Machines, Software and Hardware Components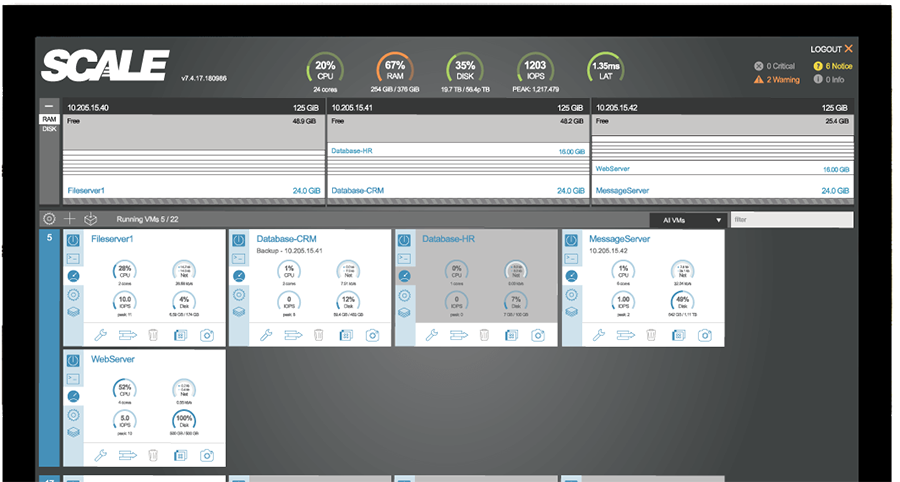 Scale Computing HyperCore Software
The uniqueness of the Scale Computing solution is its patented HyperCore Software. HyperCore is preloaded onto all HC3 nodes, ready deploy straight out-of-the-box, fine-tuned for each HC3 node type with nothing additional to license or install. HyperCore continuously monitors all virtual machines, software and hardware components to detect and automatically respond to common infrastructure events, maintain application availability and simplify datacenter management.
Scale Computing HC3 and the HyperCore architecture were designed to provide highly available, scalable compute and storage services while maintaining operational simplicity through highly intelligent software automation and architecture simplification. HyperCore puts intelligence and automation in the software layer and was designed to take advantage of low cost, easily replaceable and upgradable "commodity" hardware components including the virtualization capabilities built into modern CPU architectures. By clustering these components together into a single unified and redundant system, these attributes combine to create a flexible and complete "datacenter in a box" that operates as a redundant and elastic "private cloud" with additional nodes being automatically "incorporated" into the cluster and failed hardware being expected, and easily replaced with minimal effort or disruption.
Server Virtualization
Integrated hypervisor based on proven, open source technology with no additional licenses
Integrated management with the patented HyperCore Software
Live VM migration
Cluster to Cluster Replication
Easy migration from physical or virtual environments to HC3
Integrated Management
Web based UI
VM console access from within a browser
No separate management server
Self-healing including automatic failover of VMs
Rolling upgrades and patching with no downtime
Storage
Software-defined, hybrid storage system
High performing spinning disk with optional SSD storage tier
Streamlined, direct block-access data path
Wide striping across cluster with redundant data placement
Thin provisioning, snapshots, cloning
Flexible Scalability
Industry Standard Hardware
Remote support
Mix and match node types after initial cluster with different storage, RAM and CPU footprints
Appliance configurations optimized for size, variety of hardware capabilities
Turn key plug and play expansion
HyperCore OS v7 Specifications
Guest OS Support
Windows:

Windows Server 2016
Windows Server 2012 R2
Windows Server 2012
Windows Server 2008
Windows Server 2008 R2
Windows Server 2003 R2
Windows 10
Windows 8 (64 bit)
Windows 7
Windows Vista

Linux:

RHEL/CentOS 4, 5, 6 (32 bit and 64 bit)
SUSE Linux Enterprise 9, 10, 11, 12 (32 bit and 64 bit)

Other:

Other operating systems that run on virtualized x86 and x64 platforms may work, but they will not be fully supported by Scale Computing.
Scalability
Customer can add up to 8 nodes per cluster with no disruption to operation. Contact Scale for information on designing clusters larger than 8 nodes.
Management
Web browser-based GUI, email, and Syslog notifications
Automatic VM failover and live migration between nodes
Built in hypervisor (included)