HC3 Nodes - M-Models

The Easiest, Most Affordable Virtualization System Built Specifically for Midsize Companies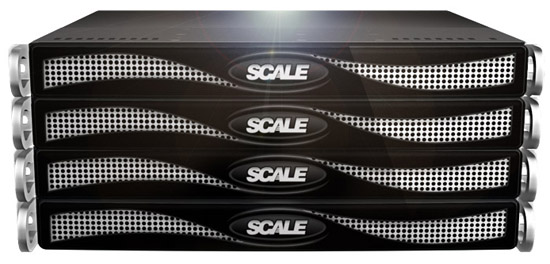 HC3 Nodes M-Models
HC3 Nodes m2
HC3m Nodes 2TB RAW Storage / 1TBu
- SATA, 32GB RAM, Quad Core CPU (8 logical cores), redundant power supplies, redundant 1Gb LAN and backplane NIC ports
- 1 year of ScaleCare Support included


* Get a FREE iPad 2 until 6/30/15

#Hm2
Our Price: $8,499.00
HC3 Nodes m4
HC3m Nodes 4TB RAW Storage / 2TBu
- SATA, 32GB RAM, Quad Core CPU (8 logical cores), redundant power supplies, redundant 1Gb LAN and backplane NIC ports
- 1 year of ScaleCare Support included


* Get a FREE iPad 2 until 6/30/15

#Hm4
Our Price: $9,749.00
HC3 Nodes m8
HC3m Nodes 8TB RAW Storage / 4TBu
- SATA, 32GB RAM, Quad Core CPU (8 logical cores), redundant power supplies, redundant 1Gb LAN and backplane NIC ports
- 1 year of ScaleCare Support included


* Get a FREE iPad 2 until 6/30/15

#Hm8
Our Price: $11,999.00
Click here to jump to more pricing!
Overview:
The Scale Computing HC3 system is designed to deliver the benefits of virtualization without the need for a NAS or SAN storage layer. A HC3 system contains server virtualization software on every node with access to a single pool of storage that spans multiple HC3 nodes, but always looks like local storage to the hypervisor on each HC3 node. HC3 pools compute resources such as CPUs and memory and automatically starts workloads on the node with the most available resources. This clustered architecture provides both the fault tolerance and scalability needed for a high availability environment and dramatically simplifies management of the environment.
Integrated Servers, Storage and Virtualization.
HC3 systems are comprised of HC3 nodes that provide both compute and storage resources. However, it is possible to create a cluster that includes nodes that provide storage only resources without the ability to run VMs directly.
Frustrated by the complexity of the modern datacenter and the price of making the move to virtualization?
Imagine a datacenter where you could focus only on your applications -- without the complexity of separate storage systems, server management, virtualization and clustering?
That is the experience delivered by HC3 - a completely virtualized 'datacenter-in-a-box' with virtualization, storage and high availability seamlessly integrated into a scalable and cost effective system that is easy to mange. With no virtualization software to license and no external storage to buy, HC3 lowers out of pocket costs and radically simplifies the infrastructure needed to keep your applications running. HC3 makes the deployment and management of a highly available and scalable infrastructure as easy to manage as a single server.
Designed specifically for midsize companies, HC3 is ideal for those who have not yet adopted virtualization due to cost and complexity, enabling them to run highly available applications.
Hyperconverged Virtualization Videos
Features & Benefits:
Benefits of Scale HC3:
Ideal solution for P2V, first time virtualization. A new, modern virtualization system you can deploy and be running VMs in just one afternoon.


Save on hardware and licensing costs. The Scale HC3 is all-inclusive. No servers to buy, no hypervisor to license.


Management time is cut dramatically. Servers, storage, and virtualization become one converged, integrated solution. Scale HC3 is the easiest virtualization system available.


Migrate VMs among the nodes of a cluster to maximize application uptime. Simply add nodes to the same cluster when you need more computing power, storage capacity or performance.


Highly flexible. Adopt hyper-convergence today, or deploy as storage only and take advantage of this feature at a later time.
Features
Benefit
Enterprise-Ready Hypervisor
The hypervisor on each HC3 node is ready for enterprise applications and production loads using the latest hardware acceleration virtualization extensions from Intel and support for virtualization-optimized operating systems and drivers.
All software and features are built in and fully integrated with the hardware. Nothing else to buy, no separate software to license.
High Availability Virtualization with no SAN or NAS to manage
HC3 provides a single pool of storage and compute resources that spans all nodes within the cluster. Each node can access the pool of storage as local disk, avoiding the management and overhead associated with storage protocols.
Optimized storage and virtualization integration results in faster performance and no cost to purchase or manage a SAN.
Unified Management
A single, web browser-based graphical user interface provides the ability to monitor and manage the HC3 storage and virtualization system.
Reduced management overhead compared to separate storage and virtualization systems, without the need to purchase and integrate them using external management software.
Support for all major guest OS types
No server left behind. The Scale Computing HC3 cluster supports a wide array of guest OS types.
Virtualizing using HC3 ensures all your business critical applications can be virtualized, without worry of what OS or version the physical server is running.
Hardware accelerated virtualization
The hypervisor in each HC3 node uses the latest Intel virtualization extensions for efficient virtualization of the entire x86 instruction set.
A hypervisor that can take advantage of the latest virtualization extensions of the CPU gives performance gains to the virtualized environments, resulting in higher VM densities and better performance for end-users.
Support for virtualization-optimized versions of Windows and Linux guest OS and drivers
A virtualization-optimized version of the guest OS, or an OS that uses virtualization-optimized drivers, can help the hypervisor avoid emulating expensive processing tasks in software in a method known as paravirtualization.
The combination of paravirtualization and hardware accelerated virtualization result in a hypervisor that can handle tier-1 workloads with minimal overhead.
Scale-out growth
When your environment needs to grow, add another HC3 node to add a virtual host as well as compute, memory and storage capacity, caching and network connectivity to the single pool of resources.
The ability to scale out the compute and storage resources is critical for converged infrastructure platforms, enabling seamless, affordable growth of the environment, rather than dealing with forklift upgrades and unbalanced, underperforming hardware.
Storage and VM availability 
ICOS™ provides a stress-free, high availability architecture. Because the cluster has no single point of failure, a hard drive or even an entire node in the HC3 cluster can fail without causing downtime for the system. VMs and data I/O simply failover to other nodes in the cluster.
The clustered architecture of the HC3 cluster provides peace of mind that the entire environment is designed to meet the availability needs of your customers, without the waste of standby servers or storage systems, or the effort of managing multiple interconnected servers and storage systems.
Standard VM Features
These include thin provisioned storage, VM live migration, pause / resume and cloning.
HC3 provides a standard set of virtual machine features that allow for efficient use of HC3 resources and save management time.
Specifications:
Model
Hm2
Hm4
Hm8
Hm2.4x
Hz2
Hz4
Hz8
Raw Capacity
2 TB
4 TB
8 TB
2.4 TB
2 TB
4 TB
8 TB
Usable Capacity
1 TB
2 TB
4 TB
1.2 TB
1 TB
2 TB
4 TB
Capacity
SATA
SATA
SATA
15k SAS
SATA
SATA
SATA
Network Ports
2x1Gbe Network Access
1x10Gbe Network Access
Hardware
32GB RAM / Quad Core CPUs
Networking
VM-based virtual NICs will be bridged to the public Ethernet interface on each node.

HC³ Systems with 1Gb NICs will provide access to VMs via 4 or more bonded 1Gb NIC pairs (1 bonded pair per node). This includes HC³ series 1Gb NIC products and M1, M2, M4 and M12x.

HC³ Systems with 10Gb NICs will provide access to VMs via 4 or more single 10Gb NICs (1 10Gb NIC per node.) This includes HC³ series 10Gb NIC products and M1z, M2z and M4z.
Scalability
Able to scale up to 8 nodes per cluster. Add node pairs with no disruption to operation.
Management

Web browser- based GUI, E-mail and Syslog notifications.
Live migration between nodes.
Built in Hypervisor (included)

Storage Features
All existing storage features of ICOS are available including:

VM Failover / Restart upon node failure
iSCSI, CIFS, NFS Storage Access
Thin Provisioning, Space Efficient Snapshots
Cluster-to-Cluster Asynchronous Replication

Guest OS Support
Windows:

Windows 2008 Server R2
Windows 2008 Server,
Windows 2003 Server R2
Windows 7
Windows Vista
Windows XP (all editions, 32 bit and 64 bit)

*Windows Server 2012 and Windows 8 coming soon

Linux:

RHEL / CentOS 4, 5, 6 (32 bit and 64 bit)

Other operating systems that run on virtualized x86 and x64 platforms may work. However, they will not be fully supported by Scale Computing. For more information, refer to: http://www.scalecomputing.com/products/systems/hc3
Configuration:
A Scale Computing HC3 system is comprised of at least three nodes for an entry-level configuration, or four nodes for the standard scale-out configuration. For greatest availability and future scalability, we recommend starting with the 4-node starter system, which allows the system to be configured in a balanced symmetrical mode (mirrored node pairs) and expanded in balanced pairs. Clusters of six or eight nodes may also be installed initially.
HC3 systems are available with nodes of different storage types, capacities and networking options. Building the optimal system requires determining the number and type of nodes that provide the resources required for your expected workload needs, both during normal operation and degraded operation (for example, if one node were to fail or be offline).
The first step is to profile the virtual machines you plan to run and their resource requirements. Create a list of the virtual machines (VMs) you plan to run and the approximate compute resources each may require (VM Memory, CPU cores, network resources, storage capacity and I/O). Your Scale HC3 reseller partner or Scale systems engineer can also help you estimate or measure this information from your existing workloads.
The guidelines in the configurations below apply to the most common VM profiles which assume an average VM with 2.5GB RAM, two virtual CPU cores, and around 50-100 IOPs per VM. Some workloads like email or databases may exceed that average, while others will fall below that average.
3 Node System


15-30 Virtual Workloads

Compute Resources

96GB RAM
3 Quad Core Intel CPUs
6 x1GbE or 3 x10GbE

Storage Resources

12 SATA or SAS drives
6 to 24TB RAW storage

4 Node System


30-50 Virtual Workloads

Compute Resources

128GB RAM
4 Quad Core Intel CPUs
8 x1GbE or 4 x10GbE

Storage Resources

16 SATA or SAS drives
8 to 32TB RAW storage

6 Node System


50-75 Virtual Workloads

Compute Resources

192GB RAM
6 Quad Core Intel CPUs
12 x1GbE or 6 x10GbE

Storage Resources

24 SATA or SAS drives
12 to 48TB RAW storage

8 Node System


60-100 Virtual Workloads

Compute Resources

256GB RAM
8 Quad Core Intel CPUs
16 x1GbE or 8 x10GbE

Storage Resources

32 SATA or SAS drives
16 to 64TB RAW storage
Deployment: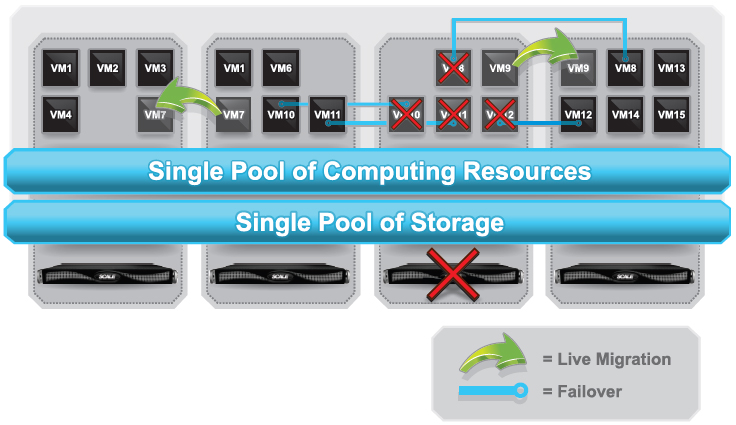 Frequently Asked Questions:
What is HC3?
HC3 is the future of the IT infrastructure: a scalable, highly available platform that runs your applications. A completely integrated cluster, HC3 brings servers, storage and virtualization together - creating a turnkey solution that is as easy to mange as a single server.
How does HC3 deliver high availability?
Nodes powered by Scale's ICOS form an integrated cluster, and this cluster is designed to allow for failover of your applications and data among the nodes of a cluster, automatically. Applications can be migrated between nodes in a live state while services continue to function. In the event of a complete node failure, applications are automatically restarted on other nodes to minimize downtime.
How does HC3 deliver scalability?
All resources of each node are aggregated into a single cluster, creating the feel of a single super-server for both you and your applications. If more computing power is needed, simply add a node. If more storage is needed, simply add a node. Nodes of different types can be mixed and matched in a single cluster, providing flexibly to build out the perfect infrastructure for applications.
If you were deploying a highly available infrastructure today, you would purchase servers, install virtualization software on those servers, configure management tools, create a storage subsystem, purchase and install a SAN, and finally network the whole bundle together. Each of these layers brings cost, both in terms for out-of-pocket dollars up front and the ongoing management of this complex environment.

With HC3, all of these layers and disparate systems are collapsed into one. As the administrator, you install your virtual machines and applications natively on the HC3 cluster. There is no SAN to buy and manage, there are no servers to buy and manage, and there is no virtualization software to buy and manage. HC3 handles all of these functions in a single clustered platform.

Instead, all of these concepts are seamlessly integrated, providing a single platform that is scalable, highly available, and runs applications.
Do I need to purchase VMware or other virtualization licenses?
No. The hypervisor is seamlessly integrated with HC3. You do not need to purchase virtualization software or licenses from any vendor, and you do not need any prior knowledge or training in virtualization to use the HC3.
Do I need to purchase a SAN to use with HC3?
No. Storage is seamlessly integrated into the HC3 cluster as a global namespace that is local to the applications running on HC3. The storage is easily managed as local, direct attached storage for your applications – no more storage subsystem, SAN, or storage protocols to manage.
Do I need to purchase servers to use with HC3?
No. The HC3 cluster is your server, storage and virtualization platform in one.
Is this a cloud offering?
No. HC3 is a cluster of integrated equipment that you purchase and deploy how you see fit - whether on site, in the datacenter, or powering your own private cloud. Applications do not need to be re-written or re-designed to work with HC3.
Who is the ideal user of HC3?
HC3 was built for medium-sized organizations with small IT staffs. Our products are widely used in the healthcare, education, manufacturing, financial services, and government industries. They have been specifically built for easy deployment and to be managed by IT administrators who want to spend more time focused on business needs and applications, rather than troubleshooting infrastructure and hardware issues. Ideal for main offices, remote offices and DR sites, HC3 fits any type of environment where applications need high availability, not high costs and complexity.
Why haven't I heard of this before?
HC3 is new technology that completely reinvents the midmarket datacenter. The traditional concepts of servers, storage and virtualization are made obsolete with HC3.

With numerous patents and hundreds of patent claims, Scale Computing is leading the way in what industry analysts are calling "hyper-convergence" - the seamless consolidation of traditional infrastructure into something as new and radical as the invention of the PC itself.
What does HC3 cost? How do I buy it?
We would love to talk to you about HC3 and how it might fit your specific needs and environment. With no servers to buy and no hypervisor to license, HC3 is built to be a cost-effective solution for small and mid-sized organizations. Its ease-of-use and simple management will completely change your view on what it costs to run your own IT infrastructure. to be contacted by a Scale rep for more info.
Videos:
Please click the video below to learn more about HC3 Demos:




HC3 Demo - How to create a VM

Here's a quick demo with Scale Computing's Director of Product Manager on how to create a VM using Scale's new HC3.




HC3 Demo - Live Migration

Here's a quick demo with Scale Computing's Director of Product Manager on how to live migrate using Scale's new HC3.

HC3 Demo - How To Clone

Here's a quick demo with Scale Computing's Director of Product Manager on how to clone using Scale's new HC3.
Documentation:


Download the Scale HC3 System M-Series Datasheet(PDF).

HC3 Nodes M-Models
HC3 Nodes m2
HC3m Nodes 2TB RAW Storage / 1TBu
- SATA, 32GB RAM, Quad Core CPU (8 logical cores), redundant power supplies, redundant 1Gb LAN and backplane NIC ports
- 1 year of ScaleCare Support included


* Get a FREE iPad 2 until 6/30/15

#Hm2
Our Price: $8,499.00
HC3 Nodes m4
HC3m Nodes 4TB RAW Storage / 2TBu
- SATA, 32GB RAM, Quad Core CPU (8 logical cores), redundant power supplies, redundant 1Gb LAN and backplane NIC ports
- 1 year of ScaleCare Support included


* Get a FREE iPad 2 until 6/30/15

#Hm4
Our Price: $9,749.00
HC3 Nodes m8
HC3m Nodes 8TB RAW Storage / 4TBu
- SATA, 32GB RAM, Quad Core CPU (8 logical cores), redundant power supplies, redundant 1Gb LAN and backplane NIC ports
- 1 year of ScaleCare Support included


* Get a FREE iPad 2 until 6/30/15

#Hm8
Our Price: $11,999.00